DECORATIVE NIPPLE COVERS FOR MEN & WOMEN
Nipz are a one-of-a-kind decorative nipplewear (nipple covers)that depict ever-protruding nipples with a secret suction feature that excites and enlarges the wearers existing nipples. 
Nipz come in four nipple sizes with 4 exciting color groups to choose from. They are certifiably skin-safe,  durable, reusable and self-adhesive. Nipz can be worn with or without clothing and can even stay put underwater. 
Customer Comments:
Perfection! ❤️ After watching the YouTube vid on how to apply - I was able to apply them easily. I received them a week ago and since then, I've been wearing them daily. I absolutely LOVE the second/lingering glances I've been getting.

Etsy Customer - snthrower
Wow! I am now an addict of these haha. The freezing size is very different from the medium Cold size that I got in pink before because the poking out "nip" part is significantly different feeling when you are putting them on. It's so much denser that it took me a sec to get it pushed semi-inside out. (This is not a critique, it was just different than the other pairs so I thought I would note it) I like that the tips kinda point up (or at least that is how I applied them) it adds this realistic flair to the sparkly nip hat I find EXTREMELY amusing!

Etsy Customer - Misha
After my breast surgery my nipples were so sensitive, and the small nipz give me the protection and natural look instead of looking like an alien like I do with the flat nipple covers you can buy in the drugstores. Nipz are a very unexpected and wonderful product. I'm sure there is a lot of ladies out there that would benefit from wearing them.

Etsy Customer - Peggy
Excellent Customer Service! I These Club Nipz did not disappoint! I'm so happy with them! They look just as pretty and vibrant as the first pair I ordered (colors are consistent with pictures) and they look amazing under my black light. Shipping is pretty fast and they came with a cute sticker in the package. I'll probably be buying the glow in the dark ones next.

Etsy Customer - gurlhppy
Great item! The color of the yellow glitter is paler than the citrine name may make you believe, it is a pale pastel yellow. This is my third order so the maker was kind enough to include an extra medium sized glownipz in a pale blue that is lovely!

Etsy Customer - Misha B
One of the neatest things I've bought on Etsy this year. And I sure buy a lot of stuff that is plenty neat-o. I tried taking some photos of them poking through some sheer lingerie or a white tanktop, but my photos didn't show the nipz off properly. The friendly shop keep was very helpful in assisting me with deciding upon which ones to try first. She even included something she had been working on for me to try out which really made my day.

Etsy Customer - Emmanuelle
While this might not be for everyone, these are some of the best nipple covers we have ever found. Shipping time is good, and the seller is very helpful.

Etsy Customer - Jonathan
I never knew something like Nipz existed. Now I'm addicted to how they make me feel."

Lisa M.
I was ashamed of my inverted nipples until I found Nipz. After two weeks, my nipples were notably larger." 

Vanessa S.
Choose Nipz By Color Group
Choose Nipz by Nipple Size
How To Wear Nipz
In order to get proper adhesion and suction when wearing Nipz, please watch this video.
WATCH NOW
How To Care For Nipz
Nipz are designed to be worn over and over. Please watch this video to learn how to properly wash and maintain their stickiness.
WATCH NOW
Nipz Are For Everyone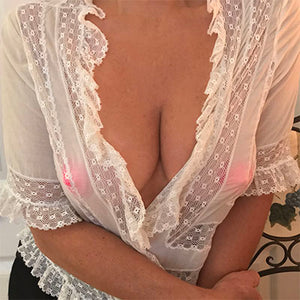 Add Some Spice To Your Life
Wearing Nipz makes you feel sexy. The stimulating suction on existing nipples can boost your sex drive and increase nipple perkiness and sexual allure.
Help For Inverted Nipples
With prolonged wear, Nipz can increase the size of existing nipples and can potentially reverse inverted nipples which can occur in both men and women.
Help For Low Libido
Sexual desire fluctuates over the years but you can take control of it. Wearing Nipz gives your nipples the foreplay action you need to feel sexy and beat the low libido blues.
To Get More Attention
If you ever wanted to get extra attention or simply stand out in a crowd, ever protuding Nipz add a dazzeling aspect to any outfit or costume.